Suddenly, OPEC + announced a reduction in oil production
Saudi Arabia, Russia and their oil production allies announced on Sunday that they would cut production by more than 1.2 million barrels of oil per day, or more than 1 percent of global supplies, in an apparent attempt to raise prices.
Oil prices rose sharply when markets opened Sunday evening, with both US and global benchmark oil prices up 7 percent.
The production cut was unexpected as the leaders of the group collectively known as OPEC+ have said in recent days that they do not intend to change their policy. While the announcement came as a surprise, it could ultimately mean little, especially if the global economy slows down.
The Alliance produced nearly two million barrels below its supply target in February, the last month for which official production data is available. "We expect the deficit to continue," said Ha Nguyen, global oil analyst at S&P Global Commodity Insights.
There are persistent reports that Russia is struggling to maintain production without the help of Western service companies, which wound down operations after Russia's invasion of Ukraine more than a year ago. Saudi production has also been below the production quota set by the Organization of the Petroleum Exporting Countries in recent months.
Brazil, Canada, Guyana, Norway and the United States make up for the lack of supplies to the world market in the amount of 100 million barrels per day. Everyone is increasing oil production.
However, OPEC+'s actions are symbolic at a time when oil prices are a third lower than they were immediately after Russia's invasion of Ukraine in February last year. OPEC+ members may be reacting to growing fears of a recession later this year following the failure of several US and European banks, as well as ongoing efforts by central banks to contain inflation. Demand for oil also fell due to strikes in France, including at refineries.
"We don't think the cuts are appropriate at the moment given the uncertainty in the market," said Adrienne Watson, spokeswoman for the U.S. National Security Council, adding: "We are focusing on prices to American consumers, not barrels, and prices have come down. . significantly lower than last year."
Saudi Arabia and Russia lead the announced cuts, with cuts of 500,000 barrels each, followed by Iraq, the United Arab Emirates and Kuwait. Some analysts believe the move could boost investor speculative interest in oil futures and push oil prices up in the coming weeks.
"I'm really surprised," said Tom Kloza, head of global energy analysis at the Oil Price Information Service. Mr Kloza said he expects the benchmark world price of Brent crude, which has hovered between $75 and $80 a barrel in recent weeks, to rise above $80. On Sunday evening, the price of Brent oil rose to $85.48 per barrel. The US benchmark West Texas Intermediate rose to $81.04.
Various energy experts assessed the possible reduction in different ways. Helima Croft, head of global commodities strategy at RBC Capital Markets, said the voluntary cuts amounted to more than 1.6 million bpd on paper, but she added, "the real effect could be around 700,000 bpd."
The global oil market is approximately 102 million barrels per day.
In recent years, Saudi Arabia, the leader of the group, appears determined to raise prices to around $90 a barrel. Ms Croft said she saw the latest OPEC+ cut as "another sign that the Saudi leadership is making oil production decisions with a clear focus on its own economic interests." Other experts saw this as yet another sign of Saudi Arabia's growing independence from the United States, and its relationship with China of increasing importance. It is already a vital partner for Russia in managing oil supply levels.
The cuts, which are voluntary and begin in May, may be temporary depending on economic conditions.
Just last week, Saudi state oil company Saudi Aramco announced two deals with China to supply refineries with 690,000 barrels a day. Oil demand continues to recover from the global downturn amid the Covid-19 pandemic. Global diesel demand has nearly recovered to pre-pandemic levels, and jet fuel demand continues to rise as China emerges from Covid lockdowns.
The cuts come as gasoline prices, still significantly lower than a year ago, are rising again. The average price of regular gasoline in the US on Sunday was $3.51 a gallon, up 13 cents from a month ago. The price a year ago was $4.20 per gallon and was a major driver of inflation.
In October, the cartel agreed to cut production by two million barrels a day, but the final cut was far below that as producing countries like Libya and Nigeria agreed to cut to levels they couldn't reach anyway.
The group last cut production in 2020 when demand fell due to the pandemic. He then gradually increased production until October.
Zolan Kanno Youngs made a report.
On post-Brexit Britain and the future of conservatism
The message of the end of austerity has certainly reached the Center for Policy Studies (CPS). On June 10, the CPS launched Post-Brexit Britain, a new collection of essays edited by George Freeman, written largely by his fellow 2010 MP recruiters. CPS rented the largest room at 1 George Street, a huge hall adorned with gilding and portraits of bearded Victorians, and treated guests not only to decent sandwiches, but also to champagne and scones with cream and strawberries. Several leadership candidates such as Sajid Javid and Dominic Raab made speeches. Penny Mordaunt cackled like a mother hen (I wonder if her decision not to run in this leadership election could prove that she is the most sensitive student in the class of 2010). Mr. Freeman loudly declared that his book gives the party "a new conservatism for a new generation" and the intellectual tools it needs to fight the resurgent far left.
His enthusiasm is infectious. But he asks too much. His book is more like a priest's egg than a Viagra pill capable of resurrecting a flagging conservative philosophy, not to mention a hand grenade aimed at the headquarters of Corbinism. In his preface, Mr. Freeman rightly argues that the Conservative Party is facing a crisis of the same magnitude as it faced in 1848, 1901, and 1945. to the fact that Thatcherism offers no obvious solution to pressing problems like overcrowded suburban trains. Various participants are also addressing issues that conservatives have shied away from, such as the importance of devolution.
However, much of the book demonstrates how difficult it is for a party to get intellectual refueling while still in government. Matt Hancock's head of health secretary is startlingly bad: predictable praise for technological innovation, devoid of interesting examples, and written in a string of clichés. (One well-read Tory quipped that the fact that the chapter was so bad proved that it was written by its supposed author and not by an assistant.) The book as a whole is noticeably free from detailed discussion of such topics as social assistance. (the issue that killed the party in the last election) or corporate reform. The Conservative Party as a whole will have to do more than that if it is to make a strong case against the resurgent far-left Labor Party.
****
Great cover pack this week New statesman to "Closing the Conservative Mind" (with the promise of more!). Robert Saunders argues that the Conservative Party has always been a party of ideas much more than it wants to pretend: its resurgence in the 1940s and especially in the 1980s was due to its willingness to embrace radical new thinking about the basic building blocks of society. . But now, instead of ideas, the party has nothing but the ideology of kamikaze ("Brexit or crash") and empty faith in markets and technologies (see above). Theresa May was an idea-free zone (compare her to Lord Salisbury or Arthur Balfour). Boris Johnson, her almost certain successor, is no longer an intellectual, despite his ability to quote Latin tags. There are some interesting thinkers in the party, like Jesse Norman and Rory Stewart (both sadly old Etonians), but it's much more the party of Gavin Williamson, a former fireplace salesman who boasts of a lack of interest in political theory. than a party of these eccentric "reading men".
The job is well done. But can't this apply equally well to liberal thinking or Labor thinking – or perhaps to Western thinking in general? The Blair-Cameron-Clinton liberalism that dominated politics in the 1990s and early 2000s has run its course. This liberalism was based on a simple formula: just add social liberalism to economic liberalism and you have the ingredients of a good society. More astute observers of politics have always known that this is too good to be true: Daniel Bell, in his book The Cultural Contradictions of Capitalism, demonstrated that social liberalism can destroy the moral capital that forms the basis of economic liberalism.
But over the past few years, we have learned that Mr. Bell rather underestimated the contradictions of his position. The biggest problems that most capitalist societies currently face stem from the extremes of both forms of liberalism. The excesses of economic liberalism have given us giant corporations that stifle competition and, in the case of Internet companies, develop a sinister form of surveillance capitalism. The excesses of social liberalism have given us various forms of social breakdown that can be seen in the most extreme manifestations in America: a record number of broken families; an epidemic of drugs, especially opioids; millions of men who have dropped out of the labor force and lead a life of petty crime and binge watching TV. It is unfair to blame only social liberalism for these problems. They have a lot to do with the destruction of manufacturing jobs and the legacy of slavery. But social liberalism clearly has something to do with it: loosening inhibitions on self-destructive behavior leads people to make decisions that, in the long run, may leave them either addicted to drugs or lacking the skills or self-discipline to become productive members of society. A prime example of the collapse of dual liberalism is San Francisco, where hundreds of homeless drug addicts live on the streets, and tech billionaires and would-be billionaires must dodge piles of human feces as they go to the latest sushi craze. compound.
And then there is Labor thinking. The Labor Party responded to the collapse of neoliberalism not by trying to create a new progressive synthesis, but by re-embracing one of the bloodiest ideologies of the 20th century. Jeremy Corbyn, the man who makes Theresa May look like an intellectual, has surrounded himself with hardline Marxists like Andrew Murray and Seamus Milne. pages of David Kot's book "Companion Travelers". John McDonnell, the Shadow Chancellor, is undoubtedly one of the smartest men in Parliament, inclined to reinforce his Trotskyism with ideas borrowed from other traditions, especially the cooperative one, and able to use new ideas (such as taking 10% of the shares into state ownership) for old purposes. But the fact that he is such an energetic walker should not hide from us the fact that he is going in the wrong direction and is trying to bring his country off the cliff. As long as this gang is in power, Labor's mind is not so much closed as dead.
****
V New statesman the cover more or less coincides with the publication of George Will's new great work, a 640-page study of conservatism called "Conservative Sensibility" (Mr. Will says he chose "sensibility" over "reason" because "reason" was already occupied by Russell Kirk). The "Conservative Sensibility" – a stream of philosophical reflection on the great American and European conservative traditions – is proof that at least one conservative mind is still open. Mr. Will still surpasses all his rivals in his ability to combine high thinking with a shrewd ability to understand everyday American politics. The reception of the book is also evidence that it was not only conservative minds that were closed: when, as a Princeton graduate, he recently approached a group of Princeton students, these privileged children decided to turn their backs on him for various unknown intellectual sins. But Mr. Will's book also implicitly supports the thesis of closing the conservative mind: it's hard to imagine any of today's embittered young conservatives of the "movement" who would have lasted fifty years in journalism like Mr. Will, and still have enough strength. to, let's say, release a big book at 78 years old.
Amazon spent $14 million on anti-union consultants in 2022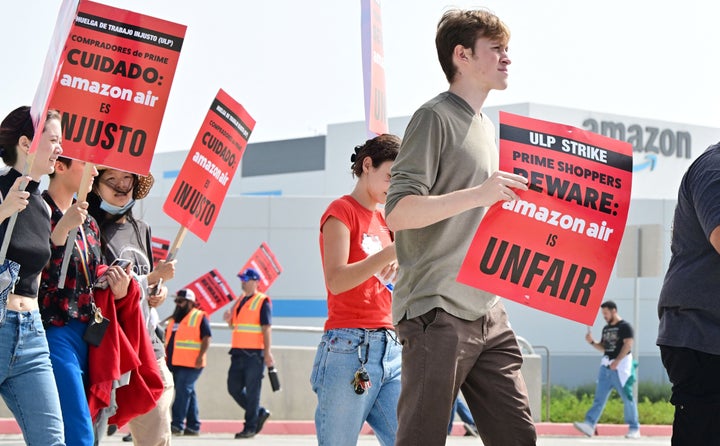 Amazon spent over $14.2 million last year to outside consultants whose job it was to convince workers not to unionize, according to new disclosures filed on Friday with the Department of Labor.
The unusually high spending on anti-union consultants shows just how determined the online trading giant is to prevent collective bargaining among its employees. The company remained union-free in the US until last year, when upstart Amazon Labor Union (ALU) successfully set up a warehouse in Staten Island, New York.
Amazon has more than 100 warehouses in the US and has been able to keep unions at bay since the ALU. upset victory last April. However, workers rejected union proposals at two other warehouses in New York following a vote in Staten Island.
Labor consultants were a key element in the company's counter-campaign, speaking out on anti-union topics at so-called "closed meetings" with workers. According to the documents, the company pays firms about $3,000 a day, plus expenses for each consultant.
"Amazon managed to stay union-free in the US until last year, when upstart Amazon Labor Union set up a warehouse in Staten Island."
Employers and their consultants are required to disclose their agreements with the Department of Labor so that workers understand who the company has hired and how much it has paid to lobby for their unionization. The deadline for employers to inform the government of their 2022 spending was on Friday.
It is relatively rare for companies to report labor consultant spending in excess of $1 million in a single year, let alone $14 million. However, according to Amazon's latest annual report, it has around 1.5 million employees worldwide and generated $514 billion in sales last year. The company has faced union action in Alabama, New York, California and elsewhere in the United States.
Amazon spent $4.3 million on anti-union consultants in 2021, according to HuffPost.
Eileen Hards, a spokeswoman for Amazon, said in an email that the company is working with outside consultants to "ensure our employees are fully informed about their rights."
"We work hard to support our people and are proud to be investing billions of dollars in safety programs, payroll, day one medical benefits, free college tuition, and numerous career development programs," Hards said. . "We also know that there are third parties that are working hard and spending a lot of money to spread false information about us among our teams."
To put the costs in perspective, Hardes noted that Amazon's facilities are much larger than typical U.S. jobs — the Staten Island warehouse employs about 8,000 people — and that the company has faced several organizational campaigns in the past year.
Connor Spence, a Staten Island Amazon worker and ALU organizer, told HuffPost last year that he and other workers investigated anti-union consultants in his warehouse to expose them and their fees to other workers. They also openly contested counselors in meetings to undermine their message.
"Their job is to operate in the shadows," Spence said at the time. "When you expose them for who they are, it becomes very difficult for them to do their job."
ALU is still trying to secure the first contract with Amazon for workers at the Staten Island plant, known as JFK8. In addition, Amazon disputed the election results, in which the union received 2,654 votes to 2,131, accusing the organizers and the National Labor Relations Board of illegally distorting the vote.
Amazon's mission failed, and the union was certified in January. But Amazon has filed an appeal against the decision for consideration by the labor council in Washington. In January, HuffPost reported that the company was able to take the time to delay the auction, a characterization that Hardes disputed.
She said the company still believes ALU and labor council employees wrongfully skewed the election in favor of the union.
"Our employees have the choice to join a union or not. It's always been that way," Hards said. "We strongly disagree with the result… We don't believe it reflects what the majority of our team wants."
This article has been updated with comments from Amazon.
The fate of First Republic bank hangs in the balance as stocks plunge again
And news reports that the Biden administration is in talks with Warren Buffett, the chairman of Berkshire Hathaway, who famously provided billions to support Goldman Sachs during the 2008 crisis, only signal that the current panic may be intensifying.
The First Republic is almost becoming a model of these contradictions – the extraordinary efforts to save the creditor seem to worry the markets more, not less.
On Thursday, the country's 11 largest banks provided First Republic, the country's 14th largest bank, with a $30 billion short-term loan to bolster its finances as depositors left en masse. The act was intended as a show of support for the First Republic, as the amounts provided by banks including JPMorgan Chase, Bank of America, Citigroup and Wells Fargo were not insured. In other words, the big banks would lose their money if the First Republic collapsed, unless the government agreed to return it.
Several of these banks, including JPMorgan, were involved in further discussions about how to stabilize the First Republic.
In recent days, First Republic's credit rating has also been downgraded several times. On Friday, Moody's said it downgraded the bank due to increased reliance on short-term borrowings, including from the Federal Reserve and a consortium of banks. Paying interest on loans can be costly for a bank that is trying to shore up its cash.
"Moody's believes that the high cost of these borrowings, combined with the bank's high proportion of fixed-rate assets, is likely to have a large negative impact on First Republic's underlying earnings in the coming quarters," the agency said in a statement. Moody's also said it was not clear how First Republic could return to profitability.
Standard & Poor's, in its own downgrade on Sunday, said the bank continues to face "significant business, liquidity, funding and profitability challenges."
Joe Rennison made a report.